Optopia is a professional group of laser, optics, laser system and application
Company name
Optopia Co., Ltd.
Foundation
January 5th, 2005
Address
611 Kanagawa Science Park, West Tower, 3-2-1, Sakado, Takatsu-ku, Kawasaki-City,
Kanagawa-Ken, JAPAN 213-0012
Phone / FAX
Phone 81-44-812-5911 / FAX 81-44-812-5921
Business
1) Marketing and Sales of custom laser optic systems designed and manufactured
  by Innovavent GmbH, Germany.
2) Marketing and Sales of OEM Optical Sub-system, Optical Module, Optical Assemblies
  by Meopta, Czech Republic.
3) Marketing and Sales of Cylinder optics, Toric optics ,Flat optics and Special optics
  by Hellma Optik GmbH Jena.
4) Marketing and sales of high power DPSS pulse YAG laser manufactured
  by PowerLase Photonics Ltd., UK.

Markets
- Laser annealing market of LTPS (low temperature poly-Silicon) for both FPD (flat panel display) panels and custom optic systems for Semiconductors.
- Optical Sub-system, Optical Module, Optical Assemblies.
- Custom optic systems for laser direct writing for semiconductor photo mask.
- OEM Solid State Lasers for Laser Marking, Laser Industrial Processing, Medical and Laser Light Show Markets
- CaF2 optical material for semiconductor, UV laser and consumable market
- Optics parts for laser (telescope , homogenizer , etc)

Access
5 minits by KSP shuttle bus from Mizonokuchi Station.(
Google Map
)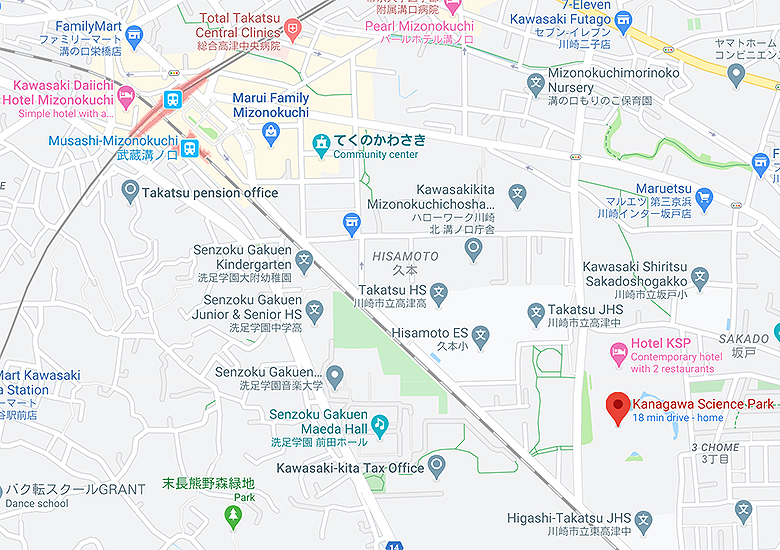 Access to Kanagawa Science Park